This might turn out to be a very long post. Bear with me or bail now.
It being holiday we are cleaning up the house. Since we moved back to Gauteng in 2013 we have not done a proper clean up and we are tackling every piece of the house and all of our possessions. This is also part of our rethinking of how we live on this earth but I cannot say exactly how that relates.
Today was a day mostly spent on other things so not a lot of cleaning out was done. But I had to do something so I tackled a bookshelf. Just one of my bookshelves because tackling all of them won't work as a strategy.
That means I have forty books piled in front of me on my desk and I now have to decide what to do with them. Do I keep them? Do I finallly read them? Have I read them and now they can go? Are they so bad that I will rather eat them than inflict them on somebody else?
So the first seperation is into two stacks. The stack I have read and the stack I haven't. Or have started reading but haven't been able to finish yet. I must admit this is one of my unusual shelves because I think I have read more of my books than not on average, just not so much on this one shelf.
Books I have read (some more than once) and notes on them
The books I have read number sixteen. Actually there are eighteen books but two are in double volumes, so only sixteen physical books. Interesting enough is that on this shelf I have already decided that I am keeping most of the books I have read (for now).
The Narnia Chronicles – six (or seven) books – by C.S. Lewis
My Narnia Chronicles is a mis-matched collection of books from different editions. I collected them over almost a decade starting when I was a teenager and finishing them when I was a student and worked as an sales assistant in a bookshop. As far as I know this was when I picked up the last one, The Horse and His Boy, a hard cover Collins edition published in 1989. This is one of my favourite stories of the seven. My most favourite being The Silver Chair, which incidentally was also the first Narnia Chronicle I read. That would have been a library copy.
My copies of the The Lion, The Witch and the Wardrobe, The Silver Chair and The Last Battle are the Lions paperback imprints that accompanied the BBC productions between 1988 and 1990. The Last Battle doesn't seem to have been included in the BBC production because it is the only one that features an illustration on the cover. The other two feature stills from the TV series, as well as have insets of stills in the middle of the book. They all still have the original illustrations as well.
My copy of The Magician's Nephew is a standard paperback, first published in Lions in 1980, twenty-fourth impression May 1989. Prince Caspian and The Voyage of the Dawn Treader was published in one volume with "NOW A MAJOR BBC TV SERIES" on the front.
I have always kept these for my children to read. They have however been reading them as audio books long before they could read the words on the page. And of course they have seen the movies. The three that was made of course.
I am not getting rid of them because thay are a major influence on myself as a person and as a reader. And just leave it at that. They are also getting a bit old and pages are coming loose. I have read every one except The Last Battle more than once. And I expect to read them again in future so they will remain part of my library.
Now that I have started with some classics, let me continue with the next couple on my list.
Ursula Le Guin's Earthsea Trilogy
My Earthsea Trilogy are all in one book of course. This paperback version first published in 1979 by Penquin with the imprint I have published in 1988. This book has seen some hard times. It was alrady tattered when I got it but lending it to a friend meant that the first 12 pages went missing. Not his fault, the were loose to start with.
I've read this book once and I know it to be a classic. I remember enjoying it when I read it but I also feel that it has a certain feel of being of a certain time. It is not one of my favourites but it is also not one of the worst. I have been keeping it because a big part of my introduction to reading came through fantasy and this I have come to know as a classic. But it was not one of my first introductions and I cannot therefore say why I keep the book. Not when I compare it to my other book by Ursula K. Le Guin.
The Dispossessed by Ursula K. Le Guin
On the cover it says: "The Magnifecent Epic of an Ambiguous Utopia – Winner of the Nebula Award!" My paperback was published by Avon Books in 1975.
The Dispossessed
I have read at least three times. The first time as a library copy. The second time when I bought my own copy but did not realise I have read it before. And the third time a couple of years later because I wanted to. Something about this story speak very deeply to me. I feel a deep empathy with Shevek's story and I like the long view over a life.
Part of it is the sense I have of the way Science Fiction from the sixties and seventies, which I only read in the late seventies and eighties created a whole world with a philosphical world view that drew me in. But this one in particular stand out. (Another is The Day of the Triffids but that one is not on this shelf so not to be discussed now).
I am keeping both these books for now, The Earthsea Trilogy because it is classic of the genre and The Dispossessed because it is a personal classic in my own reading experiences.
The Underground Man by Mick Jackson
I bought The Underground Man on a sale. I had no expectations of it but I was utterly surprised by the delightful story. The way the book is put together is on the one hand extremely simple and on the other quite complex. I loved the way that the Duke is drawn as a first person narrator and I have been using this book to practice my own first person narration.
I am keeping this one for the moment.
Books I wish I have written
The next two books are books that on my shelf because they are the kinds of books that I hope to be able to write. For both of them I had seen the movie before I've read the book and I must say that for me the movies were good but the books also did not disappoint.
These are Cold Mountain by Charles Frazier and Midnight in the Garden of Good and Evil by John Bernendt.
Midnight carried me through a very boring conference and Cold Mountain transported me to another world. These books are on my shelf because one day I hope to be good enough to write similar books.
Very different but no less a classic is The Dice Man by Luke Rhinehart. This book sits under my comedy classics but my introduction to Rhinehart was through one of his other books, Dice Living.
I don't know if I want to write something like The Dice Man. But I do know that Rhinehart managed to do something extraordinary with the premise of the book and that I admire. And his comedy is also hilarious.
Now, for the opposite of the spectrum.
Mister God this is Anna by Fynn
Mister God this is Anna was published as a Fount paperback this was given to me as a birthday present by two friends in 1989. They were both sisters and one was a girlfriend. So, I have probably kept this book for sentimental reasons. But it also reflects back to a certain time in my life where certain ideas found a place to rest.
I have not read it in 25 years and I wonder what it will be like to read it now. I am keeping it because I want to find out what have changed, for me and for the book.
The General Danced at Dawn by George MacDonald Fraser
The General Danced at Dawn is a fictionalised memoir of war experiences centred around the Africa Campaign of the Second World War. This book touches on my interest in the Second World War as well as humouristic writing. I loved it on first reading and is convinced I will love it when reading it again.
The Annotated Alice by Lewis Carroll (edited by Martin Gardner)
This book is a classic, a reference book and a treasure trove. I am not parting with this.
The Hunting of The Snark by Lewis Carroll
My copy of The Hunting of The Snark is a reproduction copy of the 1993 Macmillan limited edition from the original woodblock illustrations by Henry Holiday. It is a beautiful book and a treasured possession. And a funny book of which I hope to one day write a novelised version in a modern idiom.
These then the books I am keeping from those I have read. What I am not keeping are these three:
Procession of the Dead by D.B. Shan
Read it, mostly enjoyed it. Don't care to read more of it.
The Ghosts of Sleath by James Herbert
Now, with this book I am conflicted. The book was okay. I like ghost stories and I would like to write my own. But it was not that great a read for me. But it is a nice hardcover copy of the book and hardcover books are valuable and should be treasured.
Yet, except for The Hunting of the Snark, all my to keep books above are very tatty and mostly second hand paperbacks. So I am conflicted between the physical object of the book and the content of the book. And in the end the content of The Ghosts of Sleath does not make the cut. It is a good enough book, but not good enough to read again.
All aboard for the Gravy Train
The last book on the pile that I have read is a collection of Madam & Eve comics by S. Francis, H Dugmore and Rico. If you know them then you would know they are hilarious. If you don't then you are not a South African.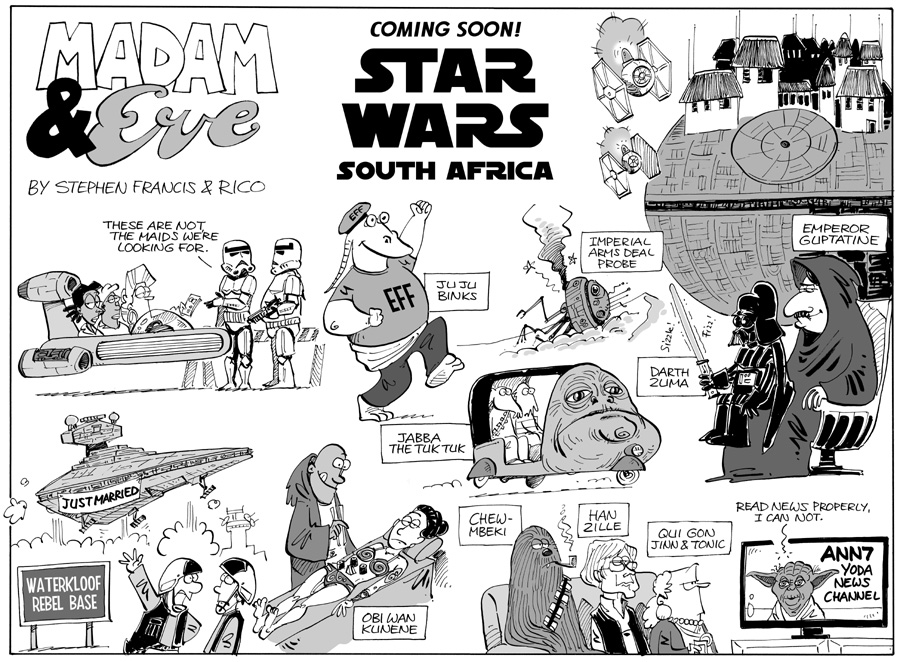 This I don't know if I'm keeping and if I do why so it will be going to another pile for later consideration. I need to know what I am comparing it to and for the moment I don't know.
That then is the sixteen books I have read. Tune in tomorrow later for the twenty-four books I have not read and find out why I haven't, and which of them I am keeping on my to read pile and which I'm kicking out.